Banquet and event menus are carefully planned. Local food like game, berries, mushrooms and herbs are strongly presented.
Cocktail appetisers
We recommend 2–3 pieces/person, price 4.00 €/piece, minimum order 10 pieces / type.
Cocktail appetisers are served with a welcome drink either when guests arrive or when guests are already seated at the tables.
Salmon tartare and pickled cucumbers
Small toast skagen and roe
Smoked elk mousse with brioche bread
Local cheese and seasonal jam
Herbal vegetable bruschetta (vegan)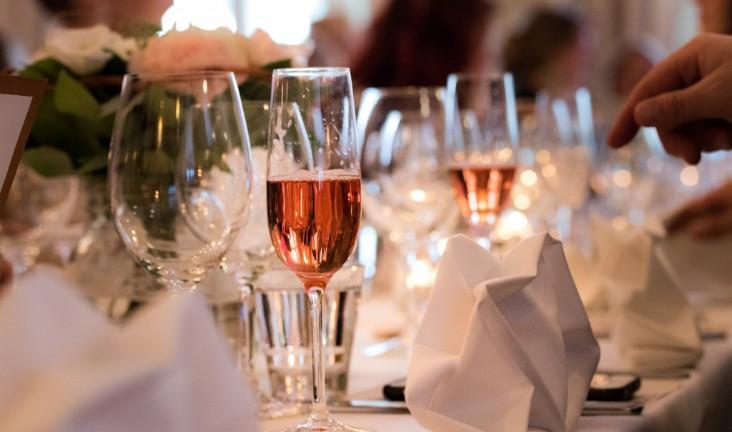 The Noormarkku festive menu
52.00 €/person (min. 30 people)
Sugar-salted rainbow trout and shrimp sour cream
Warm-smoked salmon and mustard sauce
Pike roe mousse
Bean and vegetable salad with chilli beef and coriander
Cheese, rocket salad and sorrel with nuts and honeyed lingonberries
Cold smoked deer and green salad with egg halves and cream vinegar sauce
Dill potatoes
Cured local game and blackcurrant sauce
Bread selection and salted butter
*****
Herb-roasted elk made with elk meat of Ahlström forests, game sauce
Cheesy thyme and potato gratin
Cherry tomato and vegetable ratatouille (vegan)
***
"Naked cake" with seasonal berries (strawberry, raspberry or cloudberry)
Coffee and brewed tea
Rôtisseurs buffet
68.00 €/person (min. 30 people)
Fish and salad buffet
Cream cheese filled salmon rolls and oven-dried herb tomatoes
Caesar salad with cured ham, mustard dressing and croutons
Potato salad with cold-smoked pike
Cold cuts
Beef pastrami
Venison with season's chutney
Elk meatballs and mustard mayonnaise
Cheeses
Brie cheese with lingonberry syrup
Carvery table
(the chef will do the carving)
Roasted elk from local forests
Locally produced pork
Mushroom sauce
Seasonal vegetables with herbal cheese and potato gratin
Sacher cake, liqueur cream and berry melba
or
Cremé brûleé with cloudberries
Coffee and brewed tea
The Rotisseurs selection can also be served directly to tables, so that the main course is served. The menu includes appetisers, a plate of cold cuts, a main course (two kinds of meat) and a cake or dessert. The menu is prepared for min. 10 guests. The price of the menu when served directly to the table is 72.00 €/person.
Buffet du chef
50.00 €/person (min. 30 people)
Our chef prepares a festive buffet using seasonal ingredients. The menu is not published in advance; it is a surprise menu and includes an appetiser table, a main course, coffee and a gateau topped with whipped cream and seasonal berries, or alternatively a dessert.
Menu du chef
61.00 €/person (min. 10 people)
Our chef prepares a festive three-course served menu of the season's best ingredients. The menu is not published in advance; it is a surprise menu and includes an appetiser, a main course and a dessert.
Beverages to pair with food
While you are selecting a menu, we will be happy to help you choose suitable drinks to go with the food.
Reservations
Please contact our sales for banquet and event reservations
tel. +358 50 518 3677 or ruukki@a-ahlstrom.fi