Opening hours
today
Arrival in Noormarkku
The Noormarkku Ironworks area is located in Noormarkku, Pori, about 10 miles from the centre of Pori.
The hotel reception is located in the Noormarkku Club, Laviantie 14, tel. +358 50 518 3676.
Hotel check-in
Check-in is on the day of arrival after 15.00. Please be prepared to show an ID at the reception.
The room will be reserved until 18.00 on the arrival date specified in the booking, unless otherwise agreed when the reservation was made. If your arrival time is after 18:00, please confirm the late arrival time by calling the reception desk at: +358 50 518 3676. Otherwise, the room may be released for resale.
Check-out is by 12:00 on the day of departure.
Parking
The ironworks has free parking spots without time limits as well as several charging stations for electric cars.
Driving directions
To get driving directions to Noormarkku Ironworks, enter your starting address here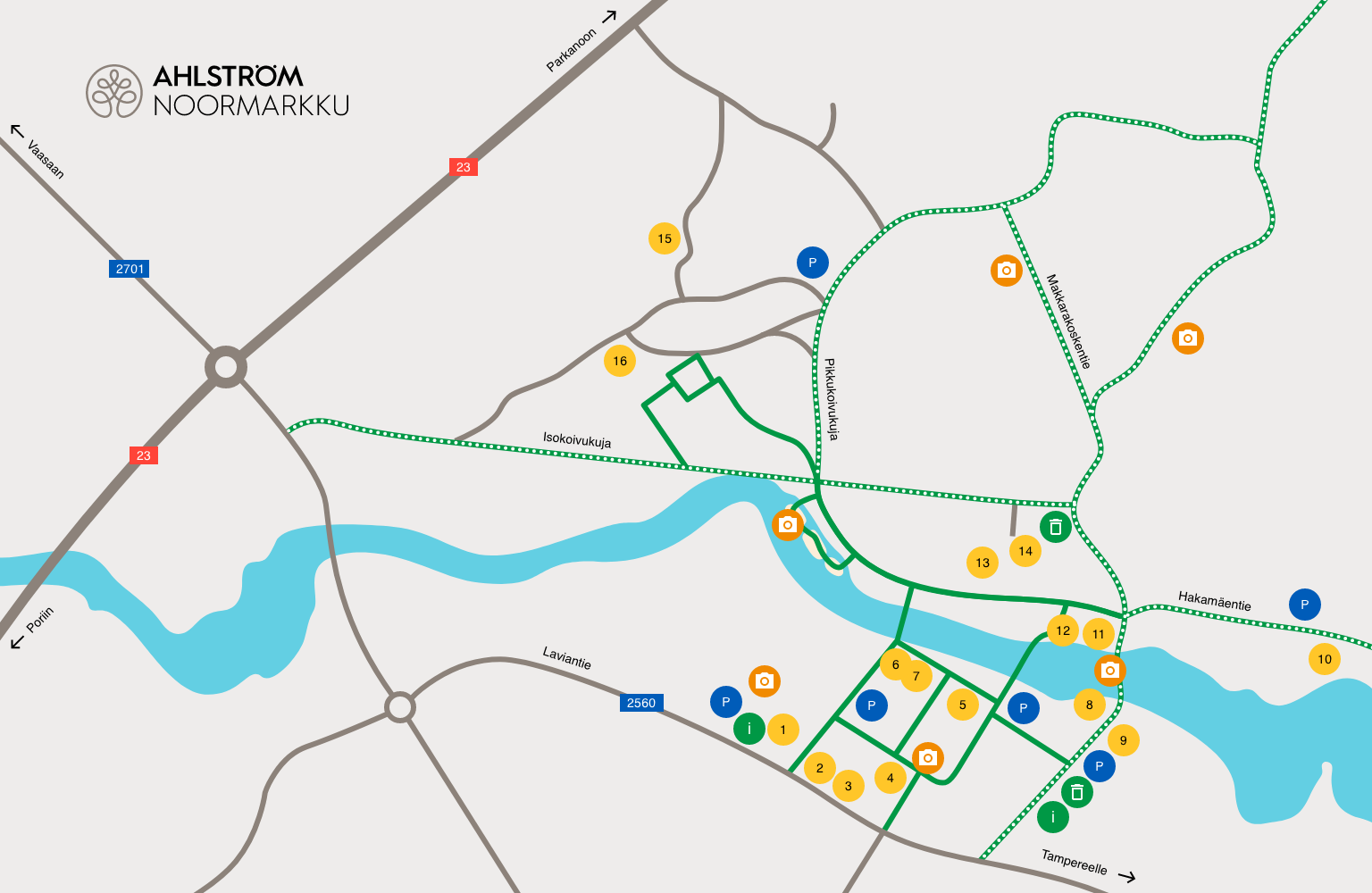 Arrival from Helsinki or Turku via Pori
Take the Pori bypass west of Pori (highway 2 becomes highway 8) and continue north, following the signs towards Vaasa. At the junction, turn right onto Highway 23. The signpost will read: Parkano, Kankaanpää, Noormarkku and Jyväskylä. You will see a large, yellow, circular artwork in the intersection. After the intersection, drive about 3 miles until you reach the Noormarkku intersection as seen on the map.
From Tampere to Noormarkku
Follow the Pori-Tampere highway (highway 11) all the way to the Kullaa intersection. At the intersection, turn right (road 2550) towards the Kullaa town centre (the sign will say Noormarkku 23). Drive through the town centre about 7 km and turn right (sign: Noormarkku 16, road 2556). At the end of this road there is a T-junction. Turn left from there (road 2560) towards the centre of Noormarkku. Once you've driven another 4 miles, you will reach the Kullaa/Lavia road shown on the map above.
Arrival by public transport
The Noormarkku Ironworks can be reached by bus from Porin Matkakeskus (Pori Travel Centre) and the Pori market square. Bus lines 64 and 66 travel to Noormarkku.
See current schedules and stops: www.porinlinjat.fi